Alumni Award
Click here to submit your nomination for the 2022 Alumni Award!
Please join us in congratulating Clare Egan '06 as the 2020 Alumni Award Winner! Embodying the spirit of intellectual curiosity, determination, and integrity, Clare is an ideal winner of this award, and inspiration for all. After graduating from Cape in 2006, she continued to study at Wellesley and the University of New Hampshire, learning five languages and participating in cross-country, skiing and track. After college, Clare turned her attention to biathalon, joining the US Biathalon Team and representing the USA in the 2018 Winter Olympics. She is currently serving a 4-year term as Chair of the International Biathlon Union Athletes' Committee and is an advocate for clean sport, gender equality, and athletes' rights.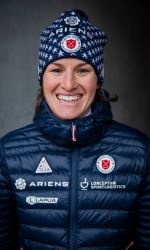 The success of an academic institution is best exemplified by the positive impact of its graduates. This award seeks to identify recipients who, through their dedication and perseverance, have made significant contributions to their communities, professions, or society as a whole. We hope the recipient will motivate graduates to seek excellence in school-related pursuits and in the future in their careers, families, and communities.
The school's mission and vision are rooted in academic excellence, creative and collaborative problem solving, a commitment to community, a willingness to take constructive risks, and a life guided by principles of personal integrity, empathy, responsibility, and respect for self and others. We recognize alumni who have lived up to these guiding principles.
If you would like to nominate someone for the 2021 award, please fill out our nomination form to submit their name. Nominations for 2021 close on April 2nd!
---
Previous Recipients
2020 – Clare Egan
2019 – David Barber
2018 – Nick Tammaro 2017 – Don Perkins
2016 – David Weatherbie
2015 – Henry Kramer
2014 – Luke Holden
2013 – Joan Benoit Samuelson